References in Khazini's Mizan al-Hikmat indicate that Beruni had continued his specific gravity experiments after his advent and settlement in Ghaznah here he had brought more of metals and liquids under study and increased the unit mass from 100 mithqal to 'one cubit cube' to determine relative weights. Recounting the history of the water balance and its use by scientists from early times, Khazini says in the introduction to his book that during the rule of the 'House of Nasir al-Din' (i.e. the Ghaznavid Sultan Mahmud and his successors), the balance was used with expertise by Abu Rayhan (Beruni)
"who took observations on the relations of (different) metallic bodies and precious stones, one to another, as indicated by this balance, and carried his deductions so far as to distinguish one from another (in a compound), exactly and scientifically, without melting or refining by arithmetical methods."
This interesting observation shows than the 6th /12th century Central Asia, when Khazini wrote in Merv, the practice of determining the degrees of purity of gold by melting and refining was common and known, though the practice was not a scientific one. In much later times, one such practice known as banwari which had been developed in India by the experts in the imperial Mint of Emperor Akbar (1556-1605 A.H.) has been explained in detail by Abu'l Fazl in The A'in-i-Akbari (Engl. tr. by H. Blochmann, ("Ain 6: Banwari pp. 19-20"), the Asiatic Society of Bengal, 2nd ed. Calcutta 1927)
In Chapter IV of the third Part, Khazini has described one of Beruni's experiments in Ghaznah in which he used a cubit cube as the standard unit of volume/weight instead of 100 mithqals as before.
Abu Rayhan ordered a cube of brass to be made, with as much exactness as possible and that it should be bored on its face at two opposite angles, with two holes, one for pouring water into it and the other for the escape of air from it and he weighed it in the flying balance first empty and hollow, then filled with fresh river-water of the city of Ghaznah……etc. etc.
Khazini took this from Beruni's Maqalah but he had also used Beruni's Kitab al-Jamahir from which he only summarized (under Part IV, Chapter 10) Beruni's observations on eight precious stones. It is also clear from the present text of K. al-Jamahir that Beruni has not described in it any of his experiments based on cubit cube as a unit. However he has cited the following one result which is based on the value of a cubit cube.
Weight of a cubit cube of water is one nineteenth part of a similar cube of gold (p. 204).
This was most probably determined by him in the experiments which he conducted in Ghaznah.
It may therefore, be concluded that though Beruni finished composing K. al-Jamahir during the reign of the Ghaznavid Sultan M'udud (432-440 A.H./1040-1048 A.D.) most of his observations in it about relative weights/volumes of metals/gemstones are based on his early experiments of Jurjaniyah, conducted during the years 399-407 A.H. where he used the water of the Oxus; while his observation about the relative weights of a cubit cube of water and of gold is based on the experiments which he conducted at Ghaznah between 408 A.H. and 427 A.H. in which he used fresh water of the Ghaznah river.
With this much said about Kitab al-Jamahir, it is a pleasant duty to acknowledge that publication of this volume became possible mainly through the courtesies and co-operation of Hakim Mohammad Sa'id. Philanthrophist and patron of learning, who made available a complete typescript of this edition so that it could be printed under the Great Books Project with which he has been closely associated.
Islamabad, N.A. Baloch
17 Dhu'l Qa'dah 1409 A.H., Project Director
22 June 1989 A.d. &
Advisor, Pakistan Hijra Council
Taj Joyo
Books in English authored/edited
By: Dr. N. A. Baloch
(1) A Programme of Teacher Education for the New state of Pakistan: (Ph.D Thesis): 1949, Columbia University, New York. (Published in parts, Sindh University Educational Journal)
(2) Arts and Crafts of the lower Indus Valley: 1964, Mehran Arts Council, Hyderabad.
(3) The Musical instruments of Sindh: 1967, Mehran Arts Council, Hyderabad.
(4) Spanish Cante Jondo: It's origin in Sindh Music (by: Aziz Baloch: English Translation & one chapter addition by; Dr. N.A. Baloch) 1968.
(5) Kitab Hasil-al-Nahj: (The Earliest work on Education in the Sub-continent in Persian, authored by: Makhdom Jaffar-al Bubakai (Distt: Dadu). Discovered and edited with a chapter wise summary in English by: Dr. N.A. Baloch, 1969, Institute of Education, Sindh University.
(6) Education in Sindh: Before the British conquest and the Educational policies of the British Government, 1971, Sindh University Press.
(7) The Education Policy 1972:( Implications and implementations) Edited by: Dr. N.A. Baloch.
(8) Development of Music in Sindh: 1973, Sindh University Press.
(9) The Historical Sindh Era(Monographs): 1975.
(10)Curriculum And Teacher Education: The volume on Muslim Education, First World Education Conference, Makka, 1977, Edited by N.A. Baloch jointly with M.H. Al-Affendi, published by: Hodder and Stoughton King Abdul-Aziz University, Jiddah, Saudi Arabia, 1980.
(11)Seminar on the Documentation of Current History of Pakistan: Proceedings and Recommendations 1947-80, NIHCR, Islamabad, 1980
(12)Advent of Islam in Indonesia: 1980, NIHCR, Islamabad.
(13)World of Islam Today: Proceedings, Recommendation and papers of the National Hijra Council on History and Culture, July 1980, NIHCR Islamabad, 1981.
(14)Pakistan: A Comprehensive Bibliography of Books and Government Publications with Annotations 1947-80: Institute of History, Culture and Civilization, Islamic University Islamabad, 1981, (Edited).
(15) Knowledge for What? Proceedings and Papers of the Hijra Seminar on Islamization of knowledge held on 7,8,9 Rabi'al Awal 1402 H/4-6 Jan: 1982, Institute of Education, Islamic University, Islamabad 1982. (Edited)
(16) Fathnama-i-Sindh: (Persian Text with Comprehensive introduction in English, Islamabad, Institute of Islamic History, Culture and civilization 1982.
(17)Beruni's Geodical Experiment on Nandana Fort: (Distt: Jhelum) Monographs: 1983, Islamabad.
(18)Muslim Luminaries: Leaders of Religious intellectual and Political Revival in South Asia (711-1206A.D.), National Hijra Council, Islamabad, 1988. (Edited)
(19)Great Books of Islamic Civilization: National Hijra Council, Islamabad, 1989.
(20) The Educator speaks: thoughts of Allama I.I. Kazi, 1989, Sindh University Press Hyderabad, Sindh.
(21) I.I. Kazi: Reflections on Evolution: 1992, Allama I.I. Kazi Memorial Society, Hyderabad, Sindh.
(22) Lands of Pakistan: (Perspectives, historical and cultural), El. Mashriqi Foundation, Islamabad, 1995.
(23) Sindh: Studies in History: (A Preliminary Version), Kalhora Seminar Committee, Karachi, 1996.
(24) Islambad: The Capital City of Pakistan etc.
(25)Allama I.I.Kazi: Unpublished Speeches & Writings, 1999, Allama I.I.Kazi Chair Publication, University of Sindh.
(26)Education Based on Islamic Values, imperatives and Implications: 2000, Pakistan Study Centre, University of Sindh.
5 Articles, Papers & Monographs:
(1) Papers on "Bolochi Literature" included in the "Cultural Heritage of Pakistan" a work first published by the Department of Advertisement and Publications Govt: of Pakistan, Karachi, 1954.
(2) "A Survey of Traditional Cultures of Pakistan and the Impact of Modern Development on Cultural Tradition" (A field study prepared for UNESCO), 1956
(3) A chapter on "Teacher Education" For National Education Commission of Pakistan, 1960.
(4) "Folk Literature of Pakistan": A general Survey read at the Pakistan Folklore Seminar, Dacca, 1968.
(5) "Education in Pakistan-1947-1970": A research survey, published in the book "Education in South East Asia", Sydney, Australia.
(6) "Higher Education in Pakistan" Paper Published in Encyclopedia of Higher Education.USA.
(7) "A North Western Dialect of Swat-Kohistan": A paper read at the Pakistan Oriental Conference, Dacca.
(8) "Folk Dances of West Pakistan": A paper published in the UNESCO sponsored journal of Traditional Cultures, Madras, India.
(9) "Balochi Alphabet and Transliteration": Sindh University Research Journal, 1970.
(10) "Historical Writings on Pakistan Tradition and Progress": Paper presented at the Congress of Pakistan History and Culture, University of Islamabad, April 1973.
(11) "In Search of the Early Indus Sites". Paper presented at the International Seminar on Mohen-jo-Daro (1973), Published in the proceedings of the Seminar and in Bulletin Institute of Sindhology, Jamshoro, July 1973.
(12) "Amir Khusru's Discoure on Differntiation in the Fundamental and Subsidiary Principles of Music: Research Paper presented at the 700th Anniversary of Amir Khusrau, Islamabad, 1975.
(13)"Objectives of Curriculum in the Pakistan Society before Colonial Rule": A research paper published in "Arabic and Islamic Garland. Historical, Educational and Literary Studies", the Islamic Cultural Centre, London, 1977.
(14)"Teacher Education in the Muslim Society:" A paper contributed at the First World Conference on Muslim Education, Makkah, Saudi Arabia. 1977.
(15)"Measurement of Space and Time in the Lower Indus Valley of Sindh": Research Paper, presented at the Science Conference, Islamabad. 1979.
(16) Address at the conference on "Evolution of political thoughts in the Muslim World" Bahauddin Zakaria University, Multan, 1981.
(17)"Early Irrigation System in the Indus Valley" Paper presented at the Sukkur Barrage Conference, Department of Irrigation, and Government of Sindh.
(18)"World Decade for Cultural Development": An Article published in 1998.
(19)"The Regions of Sindh, Baluchistan and Multan: The historical, social and economy setting." Article printed in the book "History of the Civilization of Central Asia", Volume IV, Multiple History series, UNESCO, 1998.
(20) Article on "Baluchistan" and Article on "Sindh", in the latest edition of the Encyclopaedia Brittanica.
(21) The Following chapters contributed to the comprehensive historical work published by the Pakistan Historical Society, Karachi:
(i) Pre-Islamic period of Indian History,
(ii) The Muslim Conquest of Sindh.
(iii) The Ghaznavid Rule in India.
(iv) The Ghurid conquest in India.
(22) The Advent of Sultan Jalal al-Din Khwarizm Shah in the Trans-Indus Territories (Present Pakistan): published in Quarterly Journal of the Pakistan Historical Society, Oct-Dec: 2000 (Vol: XIVIII-No:4)
(23) Foundations of Talpur Power, in Sindh: Hakim Mohammad Said Memorial lecture, delivered at the 19th Pakistan History Conference, Golden Jublee Session, Karachi, 20 October, 2001.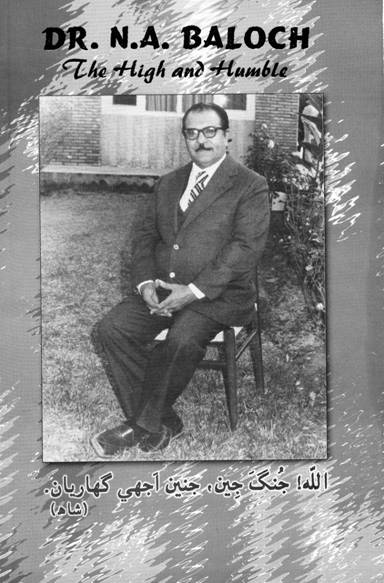 <![if !supportFootnotes]>
---
<![endif]>